25/01/2021 FASHION/FASHION WEEK

MEN'S PARIS FASHION WEEK RECAP
GmbH AW21: WELT AM DRAHT (WORLD ON A WIRE)
The GmbH Autumn 2021 collection lends its title from Rainer Werner Fassbinder's Sci-fi epic from 1973. Originally created as a series for German television, it suggests that this entire world exists entirely inside another world, perhaps as a computer simulation. GmbH propoes an optimistic vision full of hope for what it would look like to live in such a simulation. The collection is an escape from the anxious existence during times of lockdowns and crisis and makes us escape from our every day life into a Sci-fi world.
Gunther AW21: NO SLEEP IN TOKYO
Paris based brand Gunther presented its AW21 Collection trough a short film "No Sleep In Tokyo" directed by Anthelme Dubois which is telling the story of a young men in Tokyo who struggles to find sleep and switches into an alternative reality. The collection is inspired by the day/night contrast of Tokyo and offers garments that are a homage to the city that is both calm during the day and noisy at night. The materials used such as recycled cashmere and wool, organic cottons, vegetable ivory buttons unterline the brands selectiveness of textures and fabrics which results in a collection that is both retro and futuristic.


Sankuanz AW21
The brand's AW21 collection is a creative interpreation of a society that is living in choas and disorder a kind of exagerated vision of what we go trough right now and is raising the question how society with cope with such a situation. The collection is presented with a replica of the Eiffel tower in the background making references to the french capital city in times of crisis. The collection is inspired by Sci-fi, cyberpunk an apocalyptical vision of society and a vision of how we will live in the future.

Andrea Crews AW21

The brand that is celebreating its 18th birthday this year (Happy Birthday!!) is presenting a collection for which the process of upcycling was of importance during the creation. Andrea Crews took its most iconic models and revisited them to come up with a collection that is keeping the brands strong identity while adding new elements to it.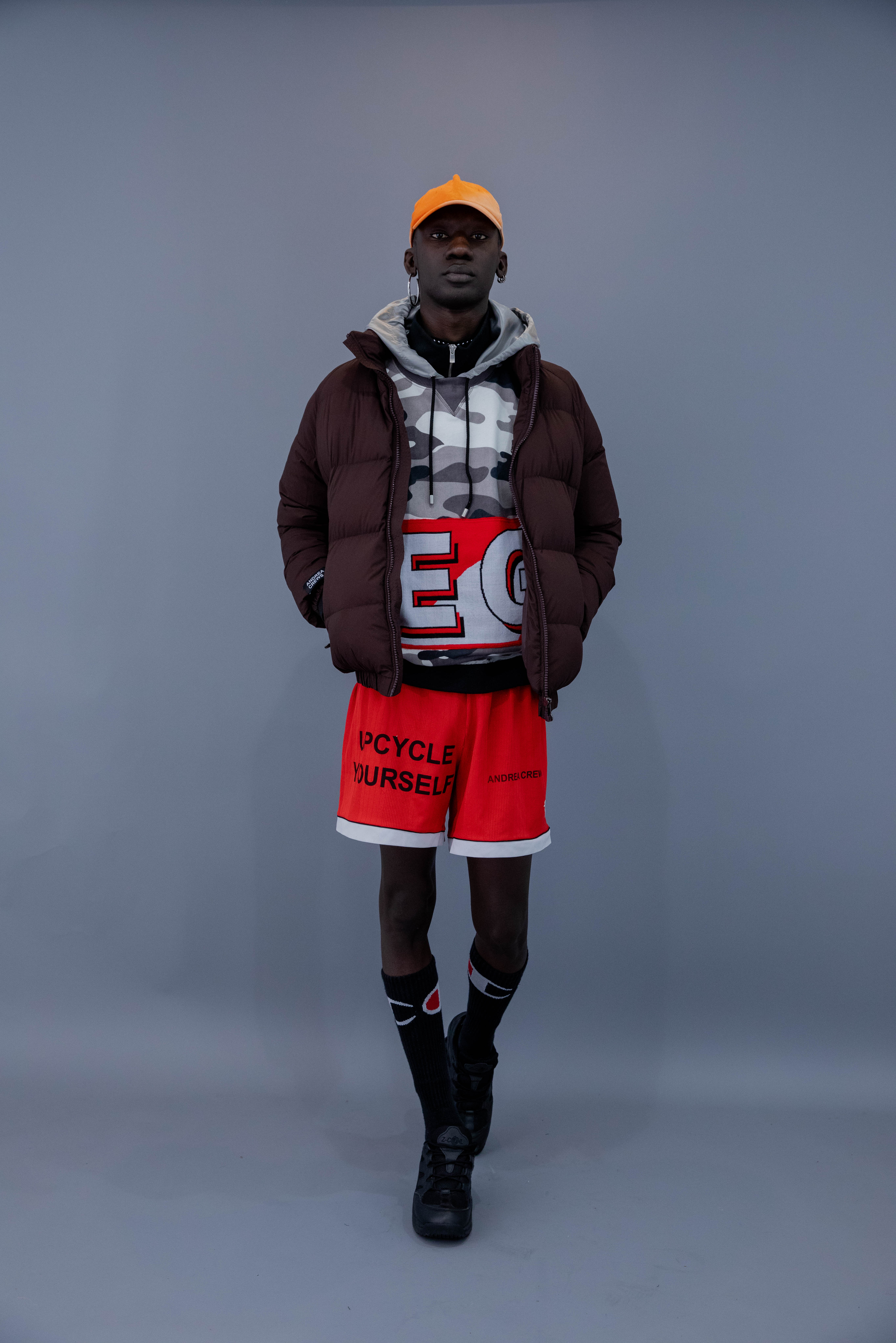 Rier W21
The designer behind Rier, Andreas Steiner , knows like no one else how to merge outdoor wear, the traditions of the alpine region South Tyrol and ultra modern looks and to come up with a collection that you could both wear during a trip to the mountains as well as in the french capital. The athelthic but stylish looks of the collection are underlining that he is not afraid to play with those different styles and genres of clothing and that outdoor wear has its place in Paris too.
ARTURO OBEGERO AW21: PURO TEATRO

The designer Arturo Obegero created a collection with the intention to make us dream in times of ciris like now. The garments are a homage to performance in general such as performance in cinema or theater, something we can't enjoy in times of ciris as now. The collection remembers us of the importance of valuing performance and how performance can make us dream even in difficult times like now.

MAISON SMALTO AW21

Faux Real, Elliott and Virgile Arndt's band are the two Franco-American brothers who are the ambassadors of the Parisian brand and who bring a cool retro glam to the brands AW21. The collection, under the arstistic vision of fashion editor Pam Boy, is one of the brands best so far being ultra cool while adding rock, glam and british lifestyle elements to it resulting in an collection that is making us dream of leaving a London night club at 5 in the morning.
BORAMY VIGUIER AW21

Boramy Viguier revealed its AW21 collection with the short film "Resurrection" that is the second part of a short film presented during the Gucci Fest. The film as well as the collection are inspired by everything mystical resulting in a collection that is inspired by the designers heroic fantasy vision. For each garment he had a different character in mind which underlines the designers talent for storytelling trough fashion.